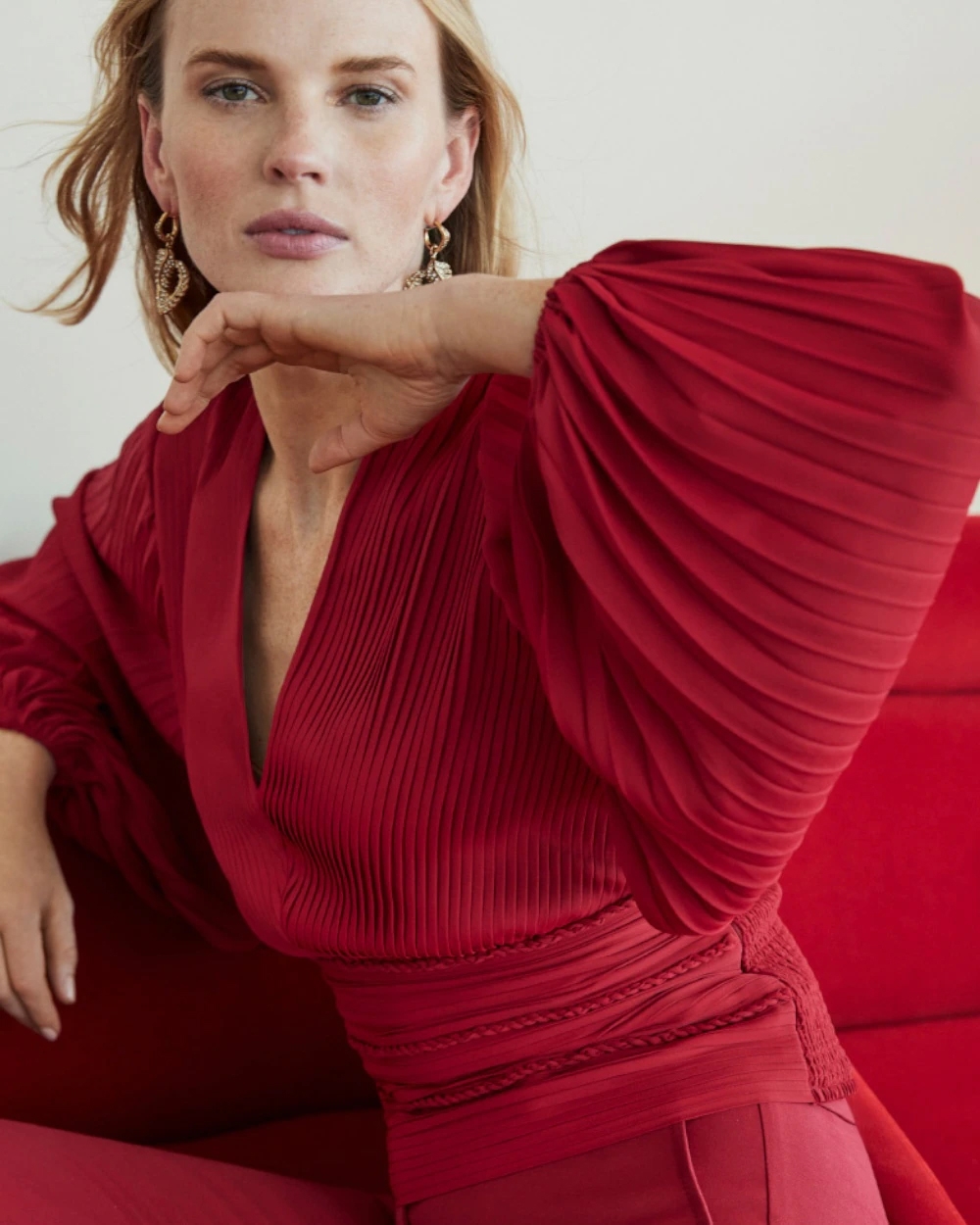 By Kim Izzo
When I was a beauty editor at a fashion magazine a lot of women resisted wearing red lipstick. They thought it was too harsh, or didn't work with their skin tone. Readers, and colleagues, friends, and family members, would ask me often in a hushed tone, "Do you think I can pull off a red lip?" My advice was always, yes, any woman can rock a red lip. It is classic beauty, an Old Hollywood glamour staple, and sexy as heck.
So it comes as no surprise to me that some women have the same reticence about red clothing. The shade is bold and not for the feint of heart. But come now, after everything we've been through these past few years, we are powerful. And few hues evoke the sense of power, mystery, and daring, while still being classic and gorgeous, as well as red.
Symbolically red means anything from passion, think of the romance of red roses, or anger and aggression like a matador's red cape or the phrase "seeing red."
Fashion editor and icon Diana Vreeland was obsessed with red, even having a red room in her New York apartment. She famously said [red] "is the great clarifier -- bright, cleansing, revealing. It makes all colors beautiful. I can't imagine being bored with it. It would be like becoming tired of the person you love."
And that is one thing red clothing is not, boring. It's inherently dramatic, in the best possible way. Women who wear red aren't drama queens, they're too cool for that. Red in 2022 is fashion's way of nodding to the dangers we've survived. Vogue heralded the red fashion trend this past spring, calling it the "color of danger, power, and the shade to be seen in right now."
And lest we forget, 'tis the season for all things holiday, and red has always shown up on everything from Santa's suit, to bows and ribbons. So if you plan on making a statement why not shake off those fears that red isn't your color. Trust me, you can do it. Let's start with the Little Red Dress of your dreams...
While there is nothing neutral about red, it is a color that is flattering on all skin tones. If you want to tone down the look then pair a dress with silver or gold footwear and accessories, and wear a neutral lipstick.
WHBM® AURA Sleeveless V-Neck Dress
Another way to ease into wearing red is to wear a gorgeous blouse with black pants or denim for a strong contrast. It's a great party look, including for work parties, or more casual get togethers.
Pintucked Banded Bottom Blouse
And for those of you who ascribe to the "go bold or go home" ethos of fashion then there's the monochrome look. I'm talking head-to-toe red. Dress. Shoes. Bag.
Red velvet isn't just for cakes, the plush feel of velvet is inherently glamorous and has been used in fashion for centuries. A red velvet handbag and dressy pumps is the finishing touch on your red allover look. Though red accessories also make for a quiet entry into wearing the color.
So stop second-guessing your red readiness, you've got this, wear it with confidence.