Every year Hollywood award season ushers in a new crop of stars, and celebrates legends and icons. And of course, we love watching the red carpet fashion parade. Who wore what, and who wore what best, is as important, and arguably more fun, than who won what.
Behind every red carpet look is a celebrity stylist, and New York-based Micaela Erlanger is synonymous with cutting edge glamour. Erlanger's first big moment came when she styled Lupita Nyong'o during the 2014 award show circuit, including a pale blue Prada gown that the actress wore to the Academy Awards when she took home the Best-Supporting Actress Oscar for 12 Years a Slave. Erlanger also styles the likes of Meryl Streep, and it's that level of star power that cemented her place on The Hollywood Reporter's "most powerful stylists" list. She's also been the subject of articles in Vogue, Vanity Fair, and Harper's Bazaar, and numerous other publications.
This May, Erlanger toured our boutique in Roosevelt Mall, Garden City, New York, where she slipped into some of our latest summer styles. We tagged along to get her thoughts on summer dressing, the wardrobe essentials we all need, as well as red carpet tips for that special occasion in your life.
WHBM: Since we are in a boutique, what is one of your biggest tips for trying-on clothes?
Micaela Erlanger: Bring your shoes to a fitting or a try-on (the fitting room) because it makes a difference – I can see how the pieces would look in real life.
WHBM: What should every woman have in her wardrobe?
ME: The perfect white button-down. That is a classic. That is a staple. You want something that is a slim enough fit with that classic menswear-inspired button detail. You can wear that so many different ways. A little black dress – I didn't make that one up – but it is for a reason! And then I would say a really great moto jacket or a denim jacket.
You're never going to go wrong with things that are fool-proof and tried-and-true. Everyone needs the perfect blazer, everyone needs the perfect leather jacket, everyone needs the perfect denim item. And a really smart trouser is going to transition you so easily from the workplace to a night out.
WHBM: What's your favorite go-to look?
ME: My go-to outfit is definitely jeans, a great tank or tee, and a blazer with ballet flats, oversized sunnies, and a really solid top-handle bag. That is my Monday through Friday look. You could easily swap out your shoes for a pair of heels and go to dinner or drinks afterwards.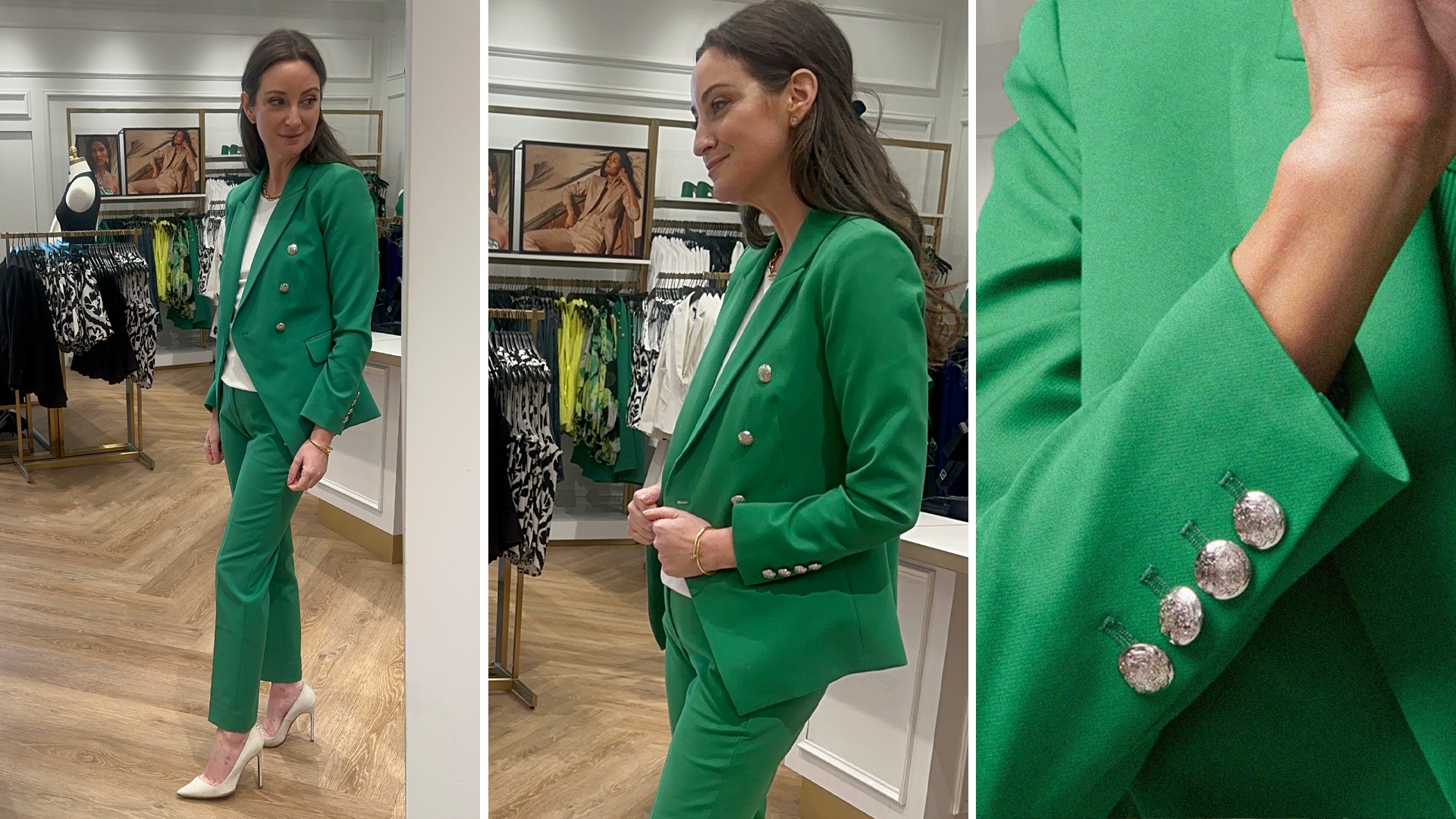 Micaela on our green suit pieces, the WHBM Studio Blazer and WHBM Jolie Lightweight Comfort Stretch Pant: "The color is so great."
WHBM: What does your working wardrobe look like?
ME: I'd say a combination of more casual, wearable pieces and also really good tailoring. I would say that there is a pretty insane assortment from the WHBM Pants Studio and also matching coordinating blazers. I'm in a great pair of trousers right now (pictured above) that I've paired back to heels, but the length is cute – I could even wear these with ballet flats or tennis shoes and the fit is amazing.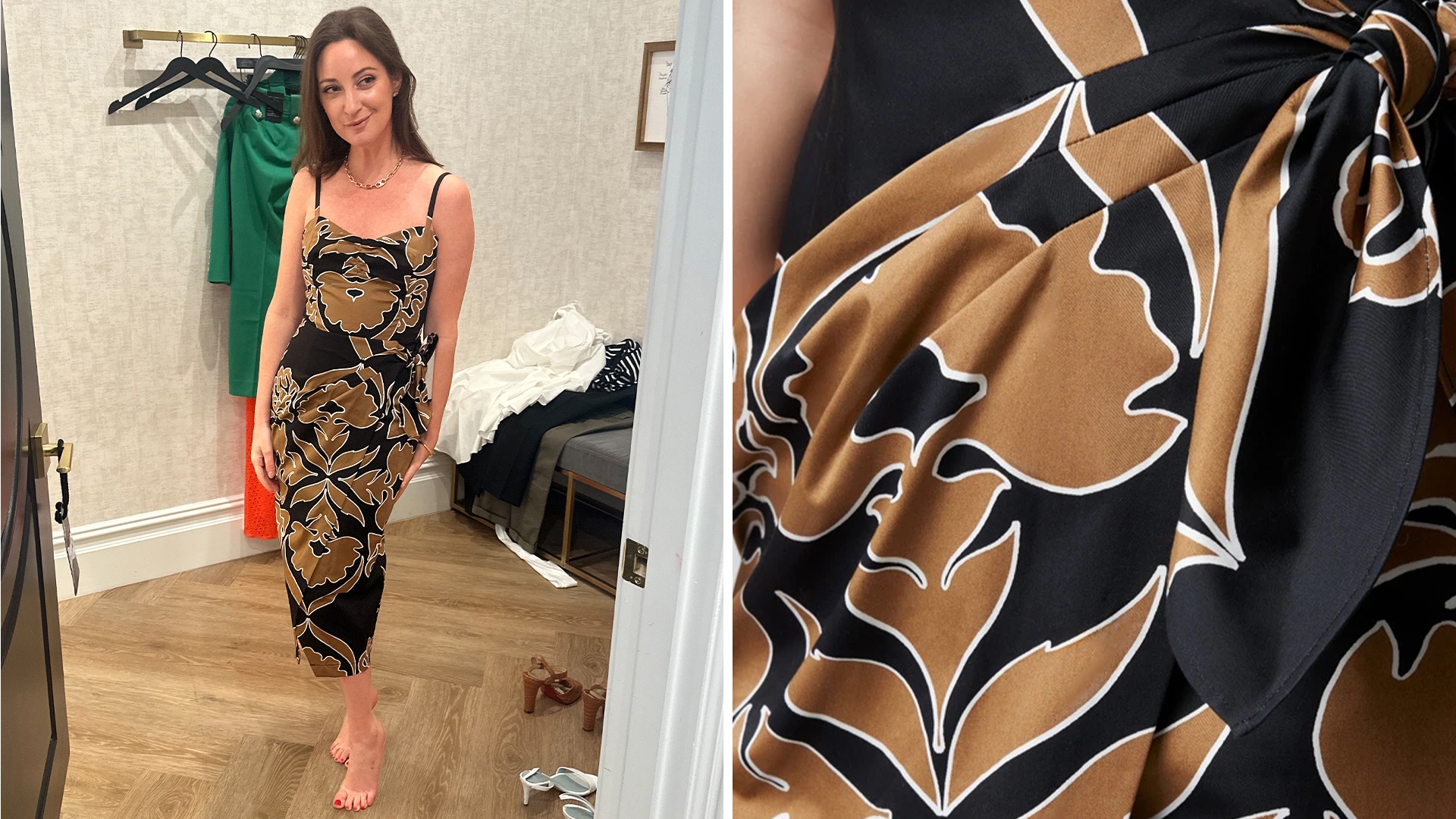 Micaela on our Cotton Sateen Faux Wrap Dress. "This is a great travel piece because it's going to take you so many places. You can wear it with a little black cardi draped over your shoulders. And if it's a Saturday, I'd pair it with a wedge, big, oversized sunglasses. It's great for brunch or lunch, a walk through town. It's a great look."
WHBM: How do you approach dressing for the summer season?
ME: I feel like summer is all about travel, exploration, celebration, gathering and being with friends and family. For all of those special moments you really do need a handful of really special dresses. I happened to try this dress (pictured above) on today and it is insane on the body. It has this amazing draping, a little ruching and a side bow, which just gives you this cinched look. It has almost a 1950s silhouette, which is amazing. And then it has the stretch in the back for a really comfortable fit. And then of course you can't wrong with a little white dress.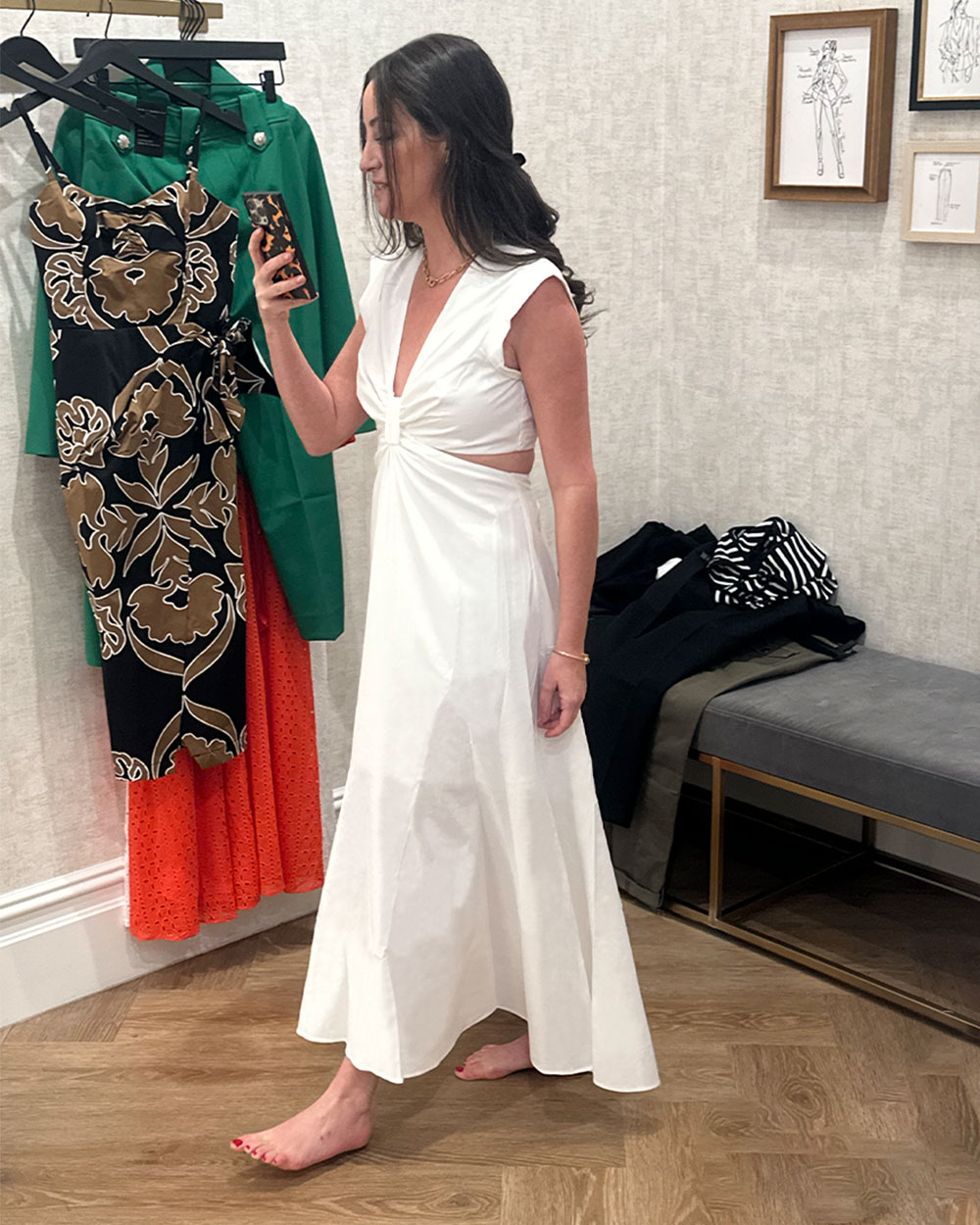 Micaela on our Deep V-Neck Midi Dress with Cut Outs: "It's really flattering. I'm not wearing a bra with it and the fabric is super soft and I like where the cutout is because it's not too low. I can wear this with flat sandals and a little straw basket and go to the market or a girls' brunch. I love this."
WHBM: How should women choose the perfect pair of denim for their body?
ME: I think that it's really important when you're trying on denim, that you're open to trying different styles. Because it really depends on the rise, where the pant's waistband is going to hit you, what the inseam is, where it'll hit you on your ankle and your waist. I tend to go for a stretchier fabrication that'll hug my body all the way around.
I'm also petite so I tend to go for a more straight-leg or a wide-leg silhouette that I can wear with a heel. If you want a more casual look, having a more relaxed fit that you can roll up is really cute, and you can do that with any pair of denim, really, just to get that extra touch of styling.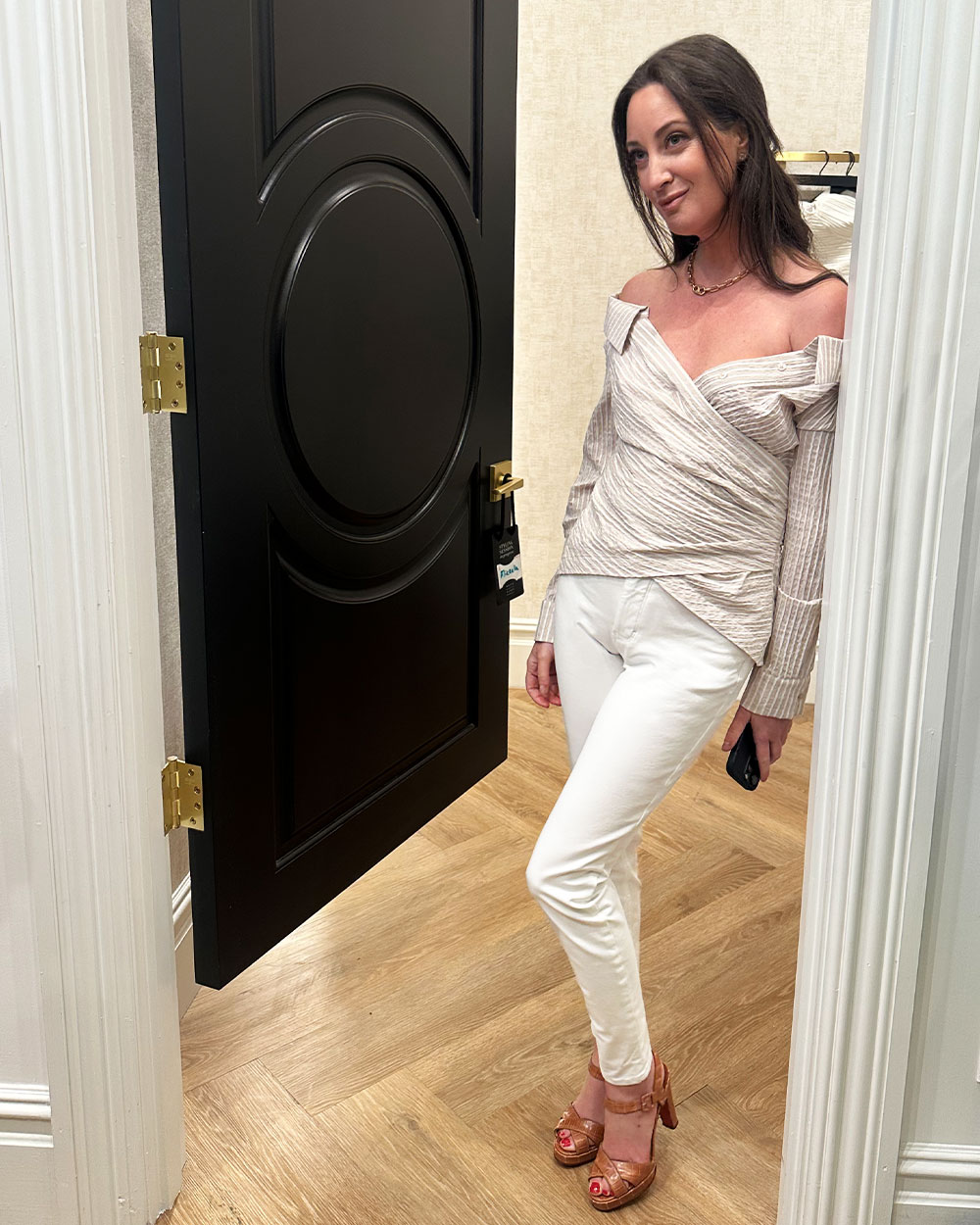 Micaela on wearing white jeans: "White denim is great. I actually wear white denim year-round. You can throw the rule "no white after Labor Day" out the window. I don't believe in those rules, I think they're silly and you should make styling your own." Micaela paired her white jeans with our Off-the-Shoulder Seersucker Surplice Top.
WHBM: Are there any red carpet tips or tricks that women can adapt to their real-life fashion moments?
ME: If we're talking about bringing the red carpet approach to your day-to-day dressing, you really want to think about fabrication, you really want to think about fit, and you really want to think about where you're going. So, investing in those pieces that are going to be a little bit more versatile and take you from day-to-night, whether you're switching out your jewelry and putting on something a little more sparkly, or throwing a heel on instead of a more casual shoe. There are really easy ways to transition your look.
Follow Micaela and WHBM on Instagram for more exclusive style tips and fashion advice as she showcases her favorite pieces from our WHBM SU23 collection.