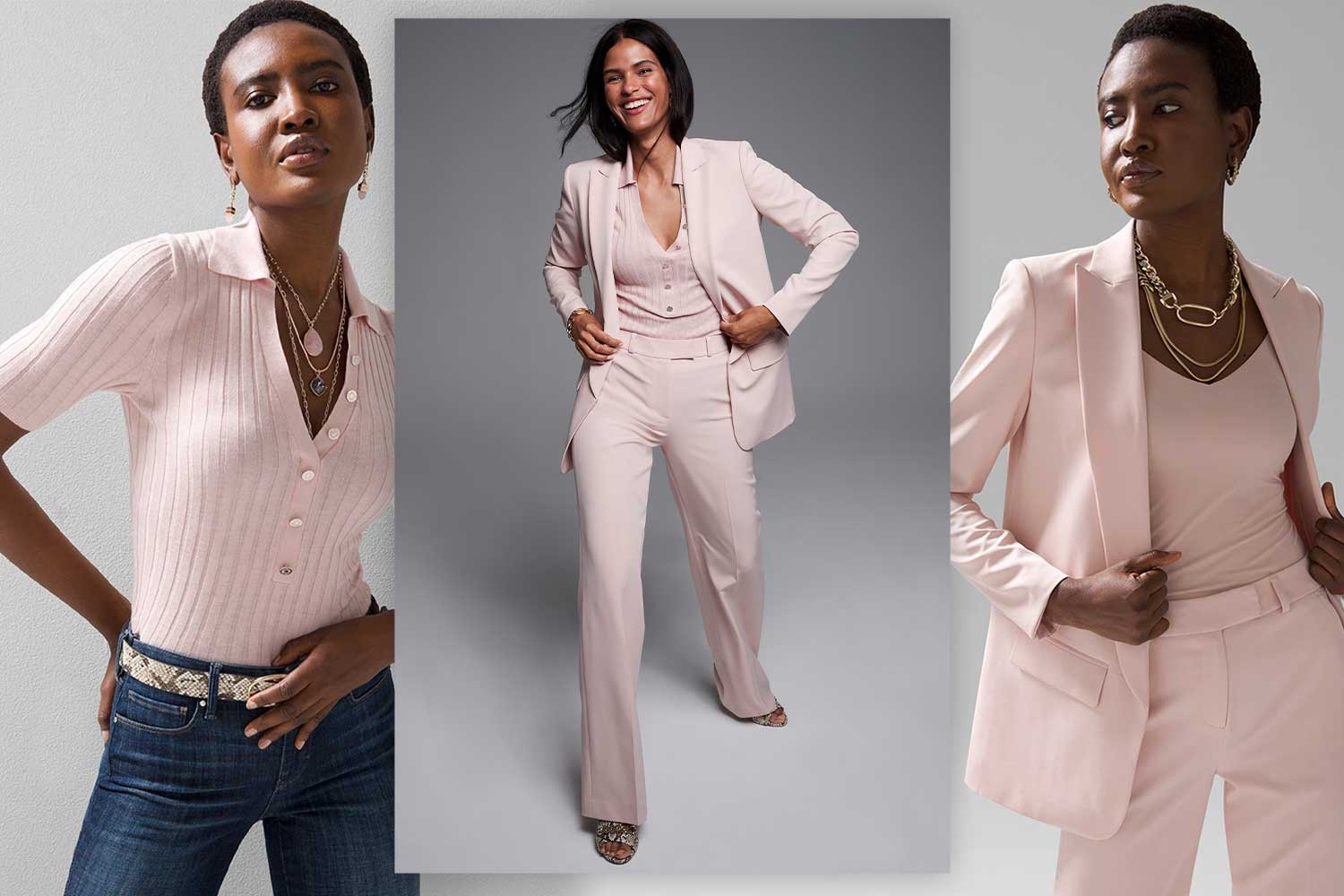 By Kim Izzo
Confession. When I was a little girl, I despised pink. It was simply too girlie for a tomboy like me who eschewed dolls for Matchbox cars and Breyer model horses. Although I made an exception for Barbie (more on the iconic fashionista later). Fast forward to my twenties and I became pink obsessed. I painted my walls pink, bought pink notebooks, pink shoes, pink denim, you name it, if it came in pink, I wanted it. And I flirted with every shade of pink from dusty rose to fuchsia, pastel to Millennial pink. But what about wearing head-to-toe pink? That I had never done. Is there such a thing as a pink power suit? Can a woman rock a monochrome pink suit and look modern and sophisticated? Is pink the neutral shade of my dreams? The answer to all of the above is, yes. Here's why adding pink to your work wardrobe is a power move.
THE MOMENT IS PINK
If you're already a pink-person then you were as excited as I was when Valentino designer Pierpaolo Piccioli debuted the Valentino Pink PP Collection for the label's Fall 2022 Ready-to-Wear collection. An entire fashion show in hot pink? And yes, there were pink suits, pink dresses, pink coats, and incredible pink tights. But why pink as opposed to the traditional Valentino red? According to fashion bible Vogue, Piccioli chose pink to "subvert its cultural meanings, its associations with girlishness, or punk, or its original one which limited its use to men (presumably to kings, cardinals, and popes in the renaissance)."
Pink as a subversive shade? That's nothing new. Pink has never been exclusively about gender identification. Pink is also political. Take the 2017 Women's March on Washington following the inauguration of President Donald J Trump. Thousands of women and men marched down the Washington Mall wearing bright pink pussy hats. Then in 2020 hot pink was dubbed the color of protest by The Guardian. "In 2020 pink has become the 'color disruptor' – the color of change for so many around the world," Andrew Burnstine, associate professor at a UK university told the news outlet. "To the millions of people who are demanding change in our political system, and to American democracy, the color pink is the new battle-cry."
Indeed, in 2019 when House Speaker Nancy Pelosi was sworn in, she chose a pink pantsuit. "Ms. Pelosi chose this color because it would not only make her standout in a room full of dark suits, but because this has now become a color associated with a set of power," Burnstine told The Guardian.
Pink has also been synonymous with breast cancer research, with the pink ribbon campaign being launched in the 1990s that has raised millions for research. Again, a sign that pink is a powerful color and one we turn to time and again.
So to say that pink is having a moment is an understatement. Back to Barbie, hot pink is one of the iconic doll's favorite colors and surprise, surprise, her signature shade of pink is having a resurgence in no small part due to the upcoming movie starring Margot Robbie and Ryan Gosling (as Ken, no less) directed by Greta Gerwig, and set to premiere in 2023. Hence, Barbiecore has exploded across the zeitgeist in everything from fashion to home décor. We can't seem to get enough of the happy hue.
WHERE TO WEAR A PINK SUIT
Whether you choose shocking pink or a more subdued shade, you can trot out the head-to-toe look at special events. Yes, a pink suit is the perfect wedding guest look and is a fresh style in lieu of the traditional floral dress.
Lest you think a pink suit will make you appear too soft and girlie, think again, there is power in pink. And we are calling it now by declaring the women's pink power suit a back-to-work statement style. A women's pink suit can also make the transition from the boardroom to brunch instantly.
It's also a fabulous and elegant look if you're attending a play, opera, ballet, or simply going to a restaurant for a night out.
THE PERFECT PINK PALETTE
Given all of this it should come as no surprise that the creatives behind White House Black Market also found inspiration in all things pink. We designed some signature fall wardrobe staples including our slip-on blazer, our best-selling soft shirt in hot pink.
But we also created a women's pink suit in a quieter shade that will please those wanting to subvert gender norms in the boardroom, and those who simply think it's pretty. Subtle is one way to describe our chosen rose smoke color, a modern pinkish grey.
"We put a lot of work into finding the right shade of soft pink that could be our seasonal color," explains WHBM designer Danielle Konotop. "We tested it on multiple skin tones, and it was flattering to all of them. It felt like a fresh introduction to fall to have the head to toe look in rose smoke, but you can take the pieces apart and wear throughout the whole fall. And that's what inspired us."
WHERE TO BUY A PINK SUIT
Our relaxed blazer and WHBM® Luna Wide Leg Pant, paired with a cashmere-blend polo is a subtle and sophisticated way to wear the on-trend monochrome pink look. The silhouette has that men's tailoring vibe, but the rose smoke hue brings femininity to the shape. "We're trying to give her a new neutral, but a feminine neutral," Konotop says. "When I put it on, I don't even think I'm wearing pink. It's a season-less color. It's not flash color. It's not a beige. It's it has a hint of the pink, and it looks great against denim."
Our pink obsession even made its way to another fall trend, tweed. Our tweed sheath dress and matching WHBM® Studio Blazer is also a women's pink suit look that is versatile because you can separate the pieces to pair with other items in your wardrobe and create different looks. "[This] tweed shows every single color that we're standing for this season," says Konotop. "It reads a little more pink but if you get close to it you see all the main colors you can wear it with, the denim blues, sage greens, a hint of black is all weaved in there."
The WHBM® Studio Blazer is versatile enough to add to your favorite denim blue or any pop of color in pants or tops. "It just looks superb because it has the denim blue in it," adds Konotop.
HOW TO STYLE YOUR PINK PIECES
Whether you choose pants, a dress, or blazer, you can mix and match with other neutrals if you prefer not to go full monochrome. But styling yourself using a pink palette is giving yourself permission to be playful, and very feminine, no matter what you're doing or where you're goine.
When it comes to footwear, any size heel or flat, boot or pump, will work with the pink suit look. For an added touch of glamour try wearing your pink suit with our neutral faux python high-heel mule.
You can take any of the WHBM® rose smoke or tweed looks and wear them with other neutrals. The pairing of denim blue and pink (see above image) is nothing short of perfection, but pink with black, olive, white, y