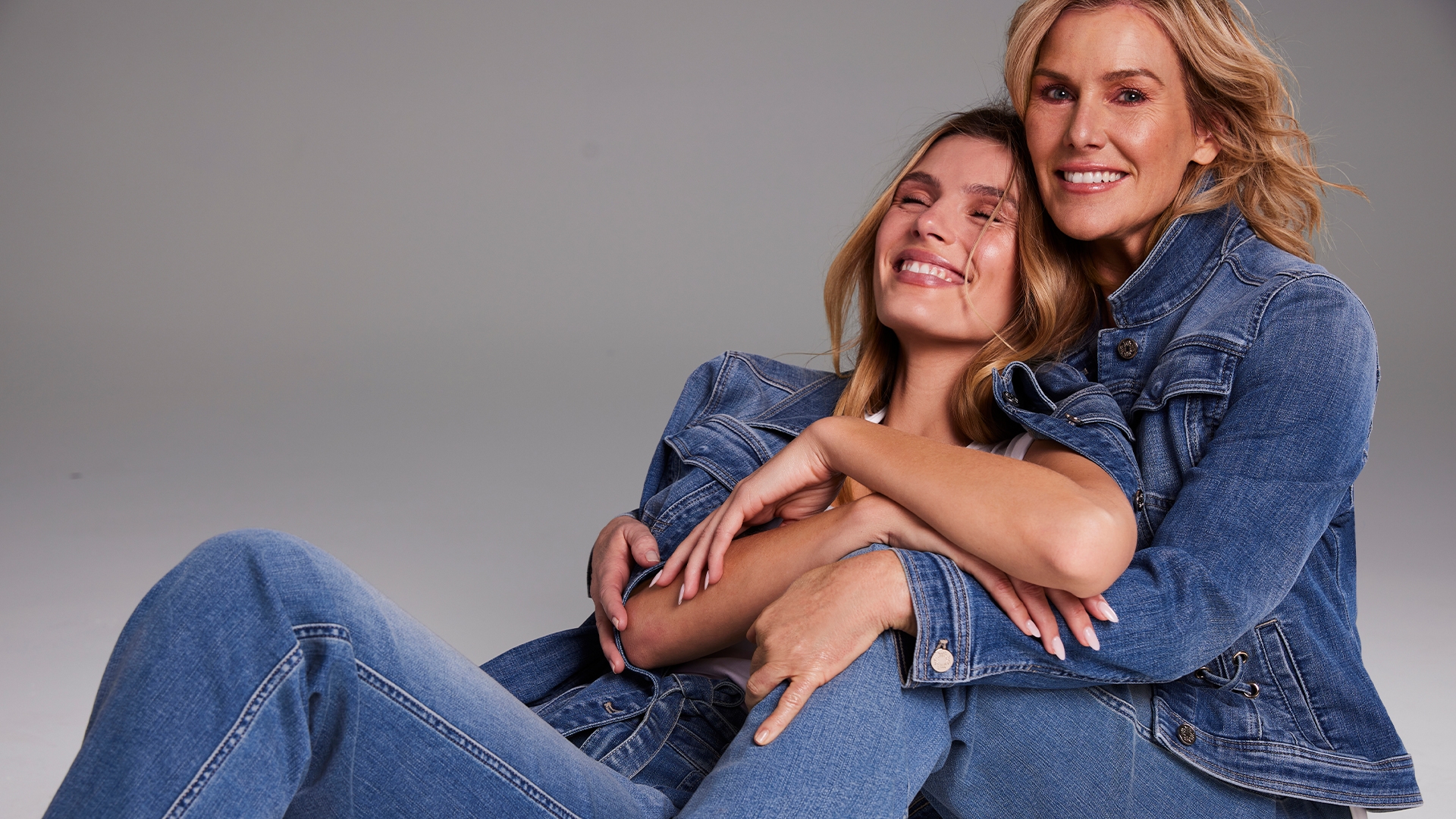 She gave us life, she kept us safe and healthy, she fed and nurtured us, she is our greatest cheerleader, she is our mom. What would we do without her? Our mothers are also our first style icon, whether we played with her jewelry, teetered in her grown up heels, or shopped her closet, playing dress up with mom's clothing was a tribute to her style.
Fashion has a long history of mother and daughter duos, like Jane Birkin and Charlotte Gainsbourg, Ingrid Bergman and Isabella Rossellini. The next generation of trendsetters continue to push fashion boundaries, take Yolanda Hadid and her daughters Bella and Gigi, Vanessa Paradis and Lily-Rose Depp, or where would the world be without Kris Jenner and her five daughters. All these women prove that style is both inherited and learned.
But you don't have to be a celebrity to be inspired by your mom. To celebrate this Mother's Day we turned to some real life mothers and daughters, who are also fans of WHBM, and asked them to share stories about their special bond and their mutual love of style. Here's what they said and what they wore.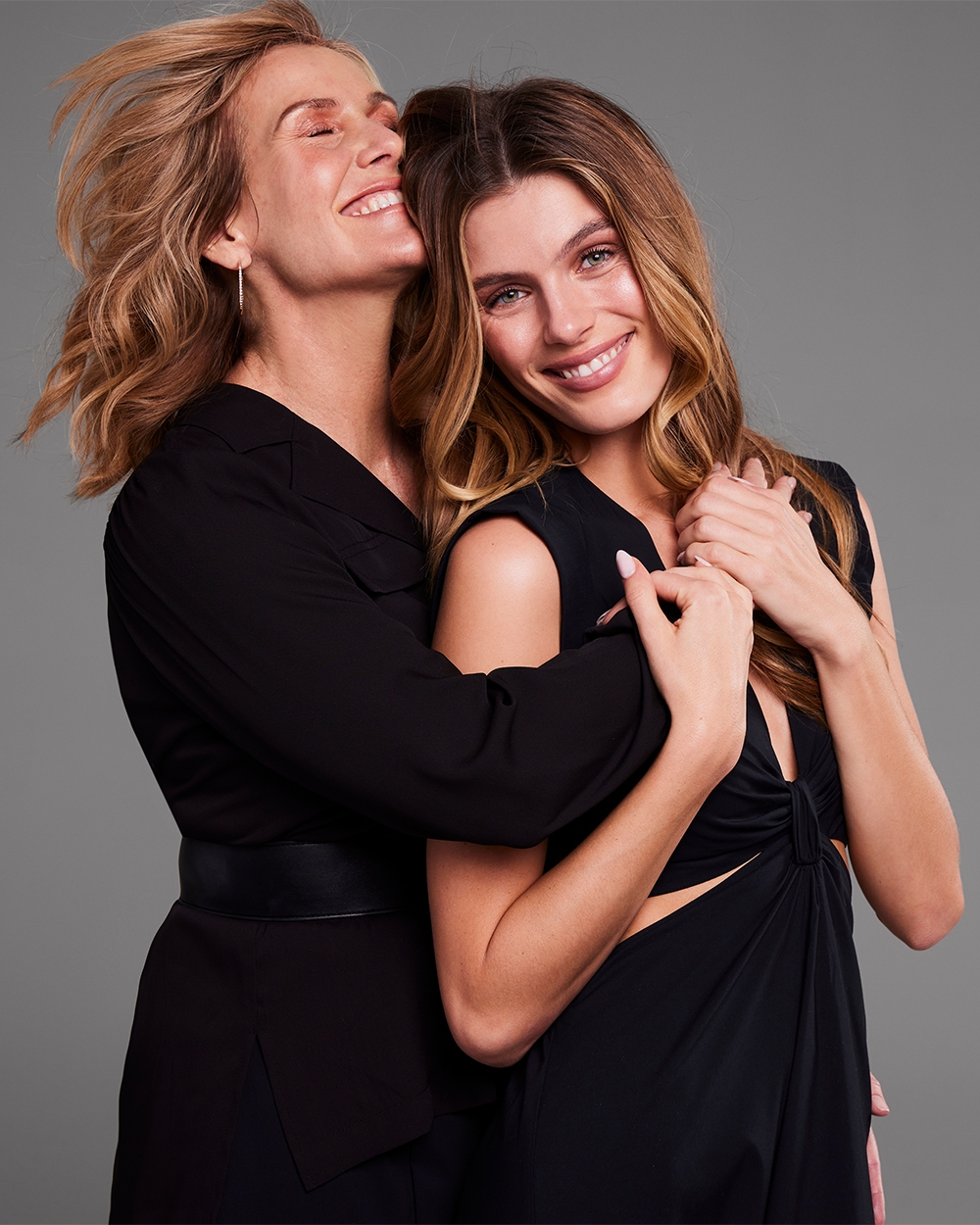 Who: New York model Madison Headrick, @Madison.Headrick (pictured above right), and her mother, Meredyth Headrick.
Style & Mom: Madison and her mother Meredyth spoke to WHBM during our recent campaign shoot about their close bond. "Me and my mom speak on the phone all day every day. Like minimum 7 times a day, at least. We're either on the phone or texting. I might be biased, but I think my mom is the best mom ever," Madison says gleefully.
"There are sometimes when I forget that she's a model and she walks in wearing something amazing and I'm just dumbfounded. I'm like ah, you look amazing!" says Meredyth. "Her first runway show…she didn't tell anybody that it was her first runway show and it was a BIG ONE! And I'm backstage, because I'm the chaperone, and I said: do you know what you're doing? She was like no, but please don't tell anybody."
Adds Madison, "In our house, every day is Mother's Day. My mom is the queen! Happy Mother's Day Mom. I love you so much."
The Look: When it came to finding a casual weekend style that suited both Madison and Meredyth, denim was a favorite go-to. In the top image, both wear the Extra High Rise Everyday Soft Denim™ Utility Trouser Jeans and Grommet Trucker Denim Jacket. These are pieces that flatter curves and accentuate the waist, while the trouser jeans also elongate the leg. In the image above, Madison is photographed wearing a stunning Deep V-Neck Midi Dress with Cut-Outs. Her mom is styled in the Long-Sleeve Soft Shirt and the WHBM® Luna Wide Leg Trouser, both in black, a relaxed, yet sophisticated combo.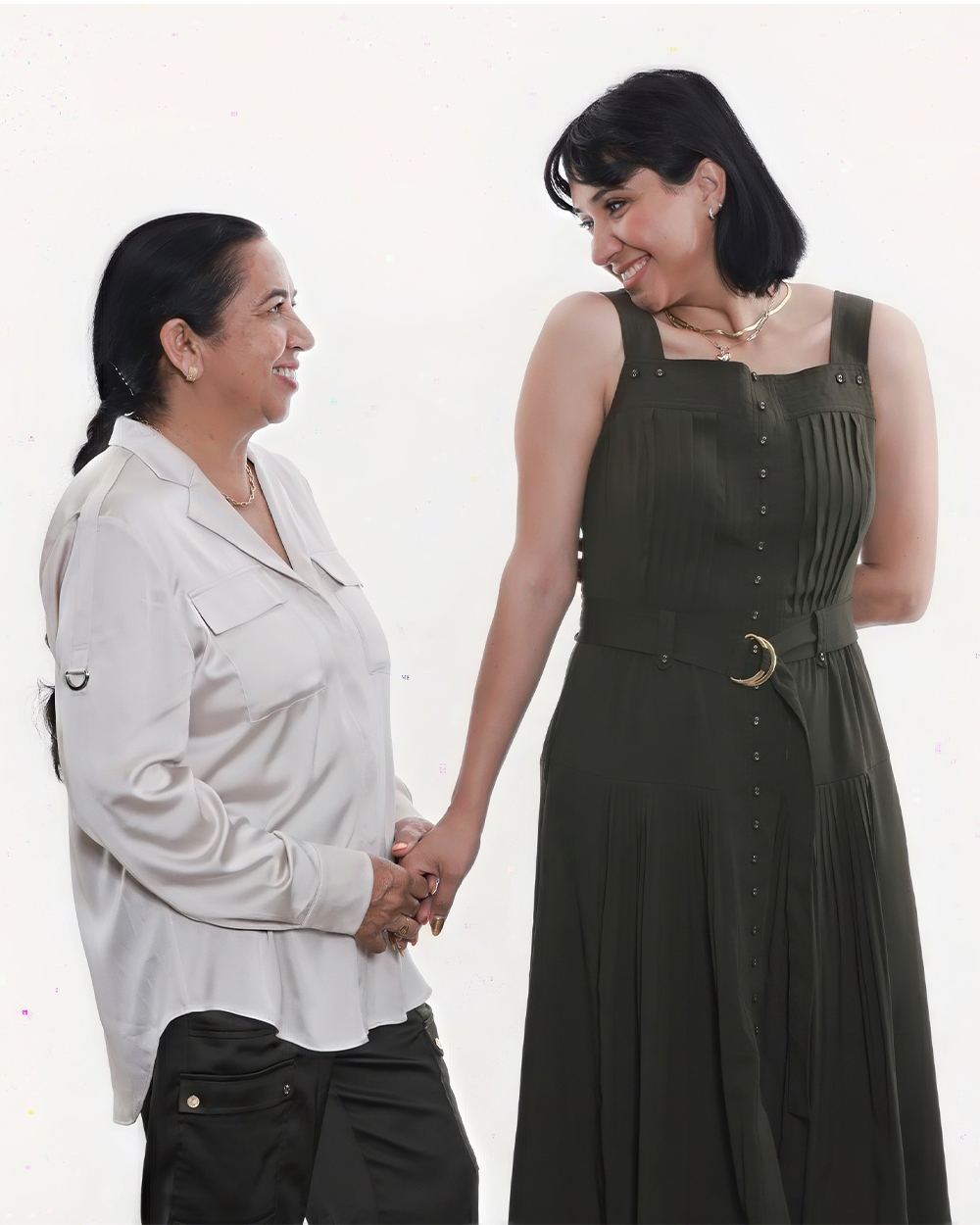 Who: Navdeep Kaur, @navik4ur (above right), is a Los Angeles-based fashion influencer, with her mother, Paramjit Kaur (left).
Style & Mom: "Thank you, Mom, for all the amazing times together, braiding my hair, cooking food, endless late-night talks, all the hugs and kisses, and comforting me. You filled my life with laughter and joy, and you always knew when I was in pain, even before I said anything about it. You have taught me to be strong and positive and take life head-on. I love you, Mom!!"
The Look: Navdeep leaned into the utility trend when choosing WHBM pieces for the shoot with her mother in part because she felt wearing coordinating looks would create lasting memories. "I [also] chose this outfit because of the neutral colors, and it represents the unique bond I share with my mom." The Pleated Utility Dress and the Soft Shirt with Adjustable Sleeves put a feminine twist on the current cargo trend.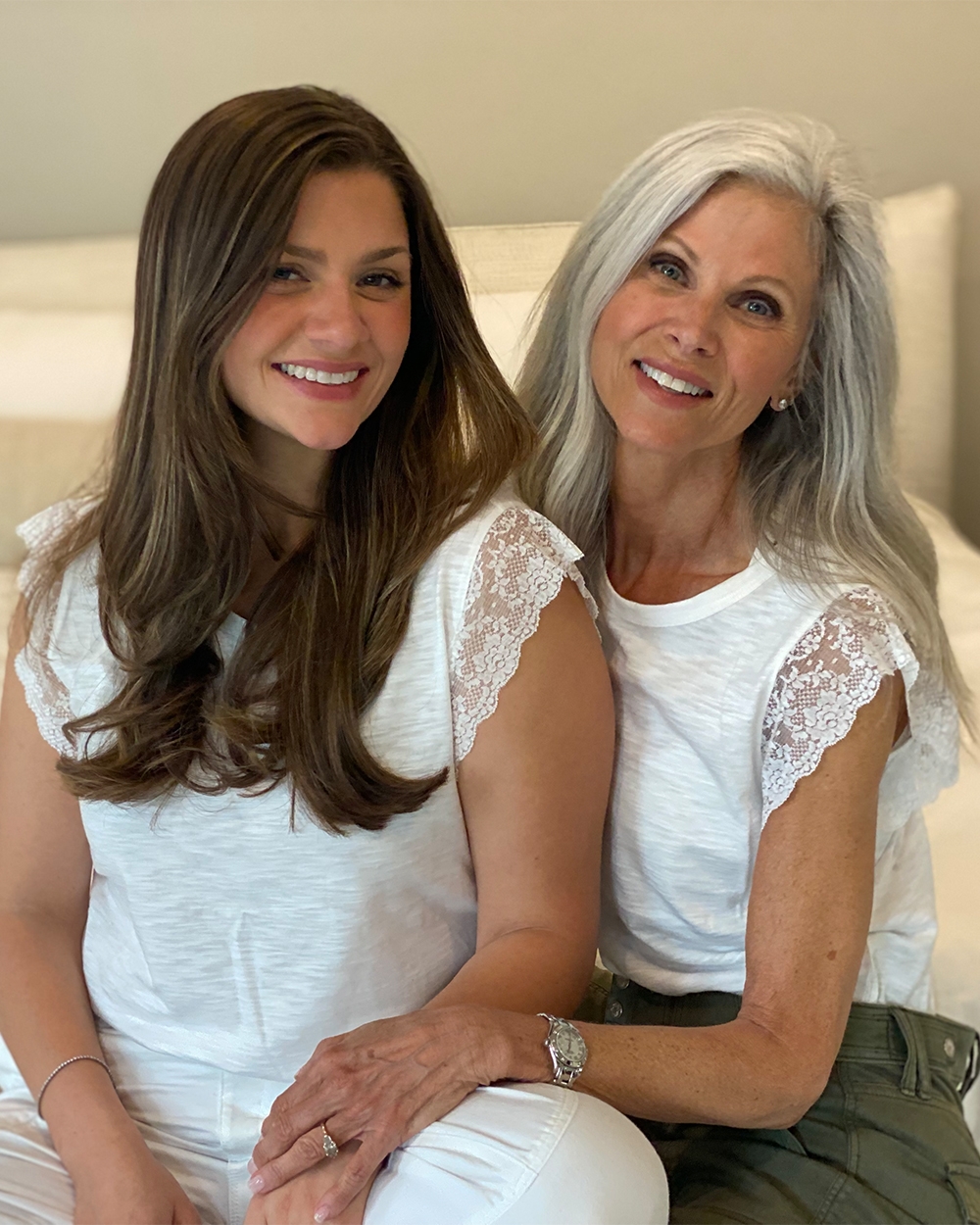 Who: Lynn Shabinksy, @whitehairwisdom (above right), 61, who is based in Ontario, Canada, is a yoga teacher and influencer. Her daughter, Marissa Leigh, @withlovebymarissa, (above left) is a wellness influencer and a mom, lives in Texas.
Style & Mom: "I was blessed to have a mother who loved me unconditionally with strength and ease," says Lynn. "And when I became a mother, I realized a mother would go to any lengths for their child's happiness. WHBM fashion is for the mothers and daughters in your life."
The Look: The Lace Sleeve Tee is a feminine spin on the classic t-shirt, mom and daughter opted to pair theirs with the Mid-Rise Pret-a-Pedi Cropped Pant.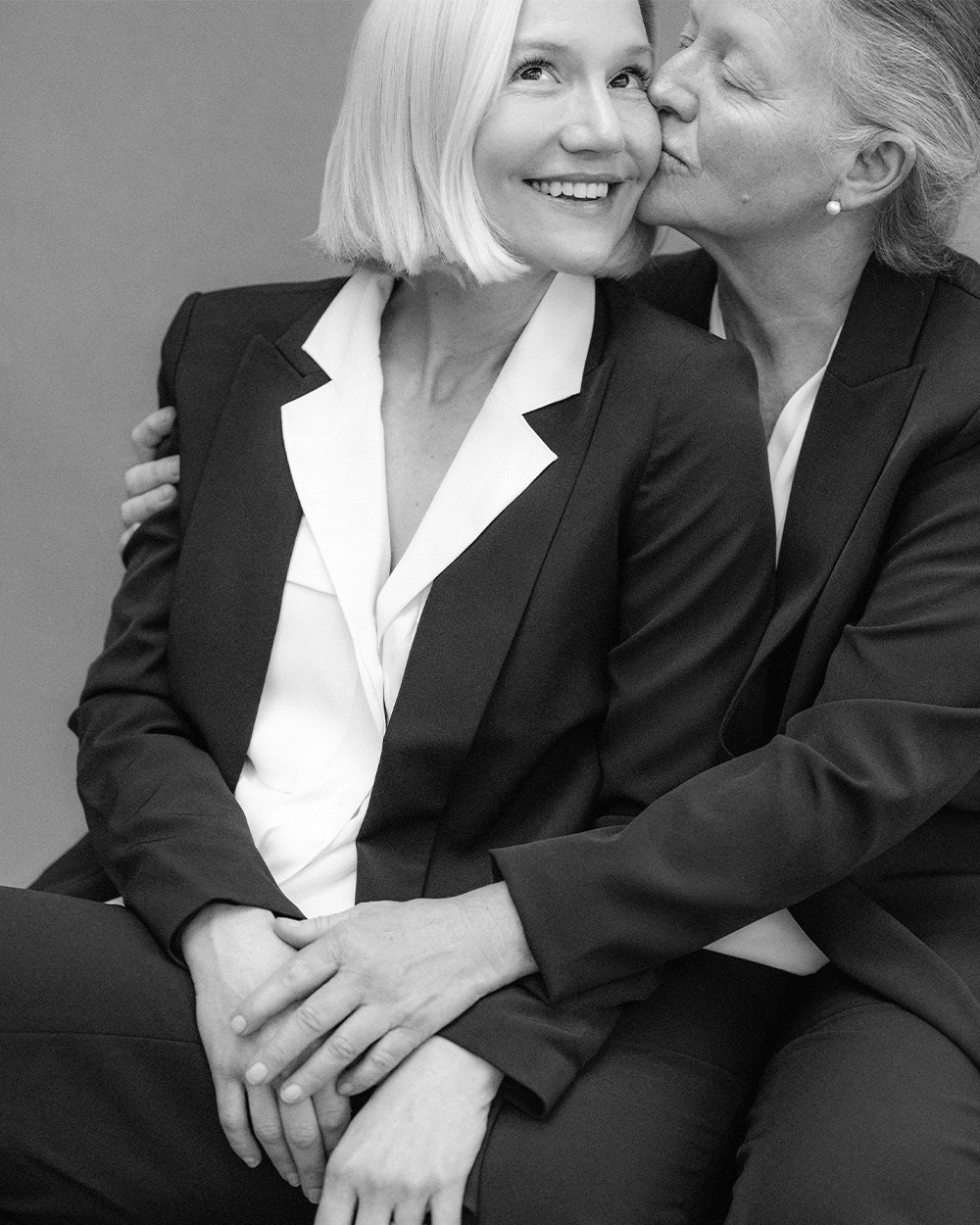 Who: Anne Sage, @citysage, (above left), and her mother Tammy Sage.
Style & Mom: "Everything I can tell you about courage, I learned from her," Anne says of her mom, Tammy. "My whole life, she's shown me what it looks like to step outside your comfort zone. She started a family while still in graduate school. Left the country she knew and moved to a new one. Fearlessly pursued her career in a male-dominated field. Proved wrong everyone who told her that you can't be a devoted mother and visionary scientist at the same time. Determination and generosity of spirit. Brains and beauty, inside and out. She's the definition of what it means to be a #PowerMom."
The Look: Anne and Tammy chose the Relaxed Blazer and Luna Wide Leg trouser, a relaxed suit that's comfortable while still being a powerhouse look. "My mom and I both have pretty classic, minimalist style, but are pretty laid back too," Anne explains. "This look perfectly straddles the line between polished and relaxed!"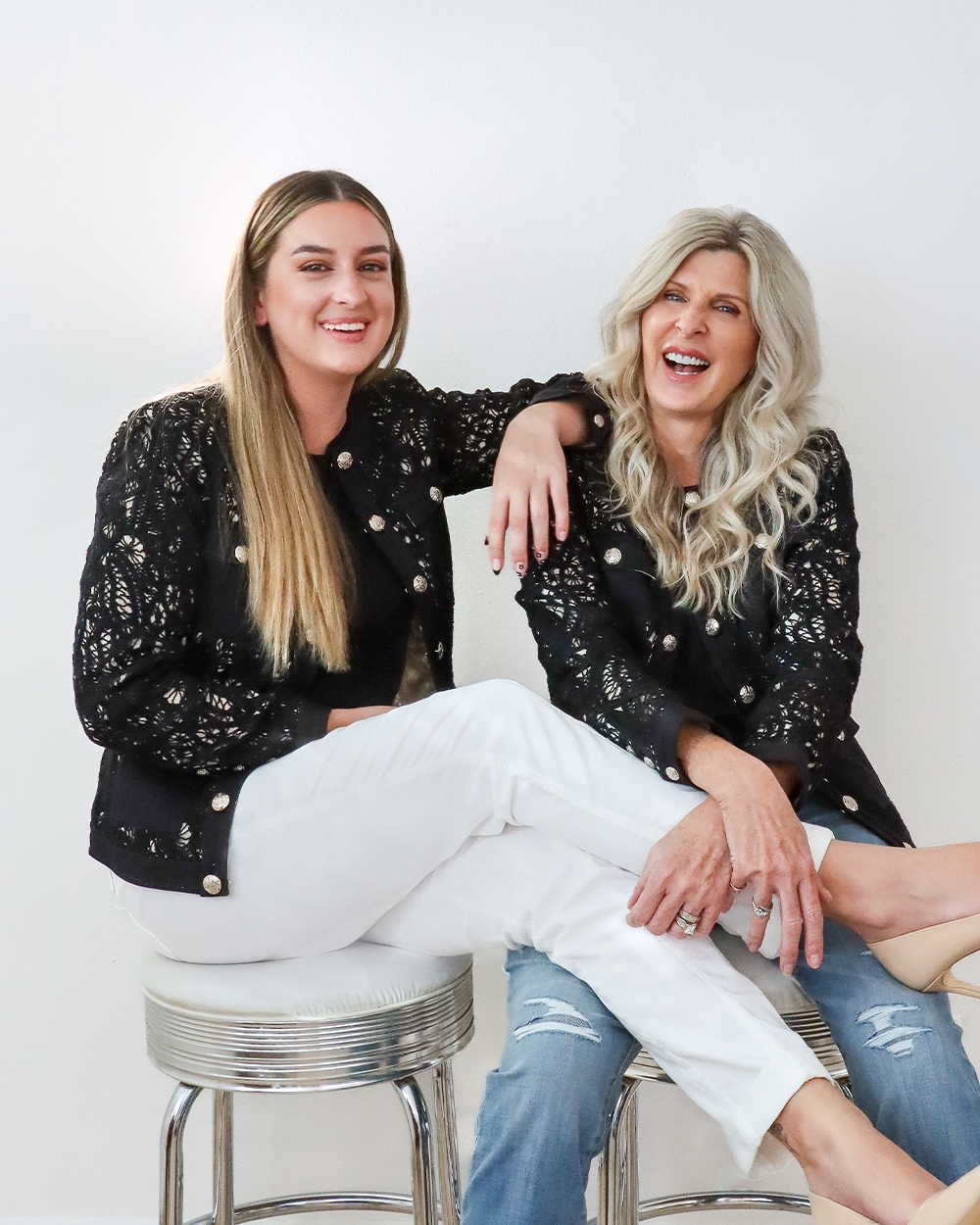 Who: Lynnet Kahn, @lynnettiu, (above right), 60, is based in Florida, and as an influencer she wants to promote positive aging and wellness. Her daughter is Alexis Kahn (pictured left).
Style & Mom: "I feel so blessed to have been given the opportunity to be a mom (twice) and to be there for both of them," Lynnet says. "Being a mom is definitely one of the most rewarding jobs. Having lost my mom recently it means even more to spend time with my 'kids'! And one of the things my daughter and I love doing together is shopping for great styles."
The Look: The duo chose the WHBM® Stylist Jacket in lace because Lynnet loves the gold button details and the flexibility of the lace. "It's easy to feel amazing in it! Works great with jeans for an upscale casual look, or for work or a dressier event with a skirt, dress, or dress pants." In this instance, denim was the go-to, with the pair opting for Mid-Rise Everyday Soft Denim™ Girlfriend Jeans.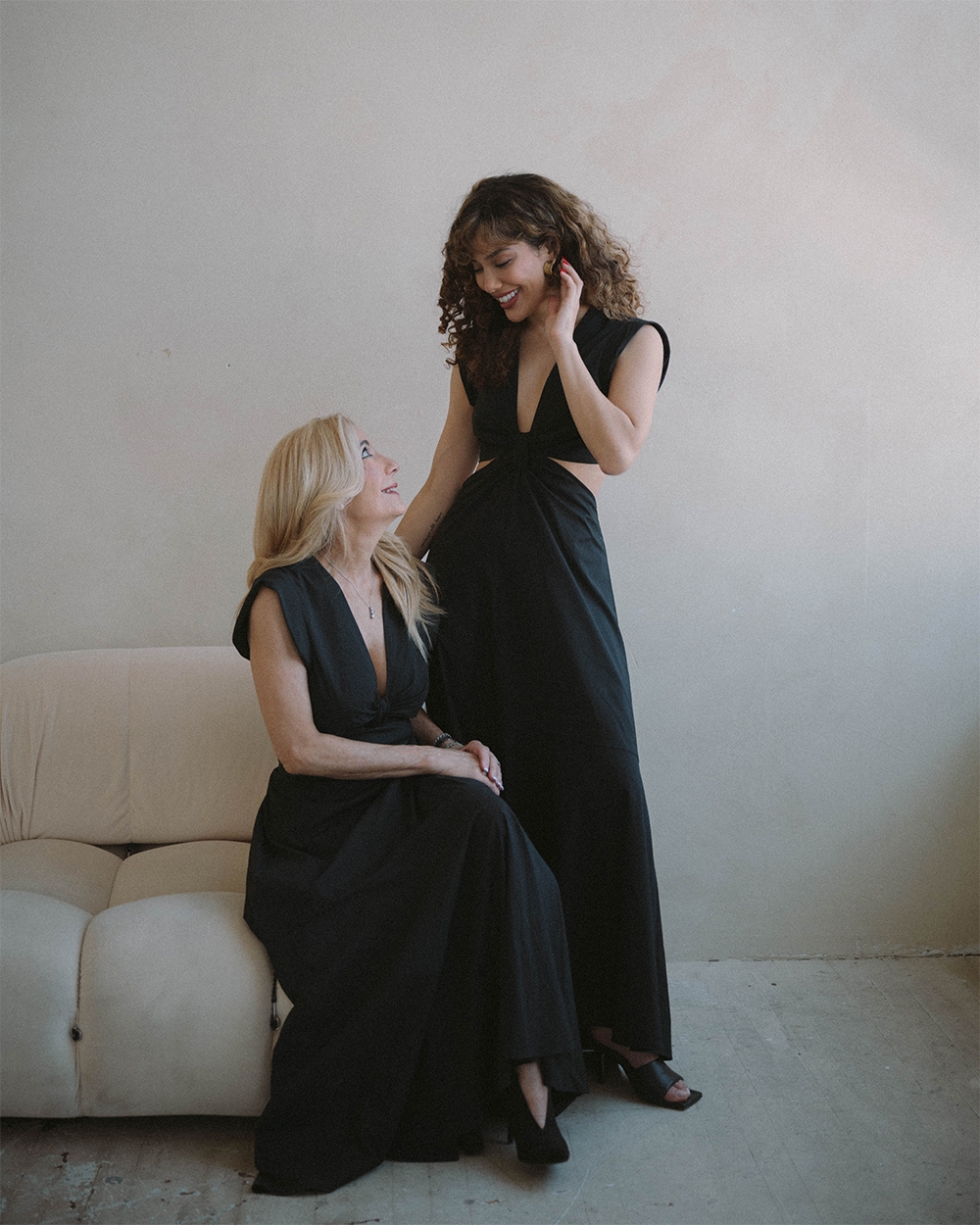 Who: Barbara Brignoni, @barbiebrignoni, (pictured standing), a New-York based influencer and creative director, and her mother, Tere Bravo (sitting).
Style & Mom: "Fashion has always connected me to my mom," Barbara says. "As a little girl, I loved going through her @whbm work suits and skirts, imagining myself in them someday. Her fearlessness, determination, and sense of style have molded me into the woman I am today."
The Look: A classic midi dress with deep V-neckline and cut-outs on the sides and back. The cap-sleeve silhouette adds to the modern style. It's a statement dress that's perfect for an evening out.