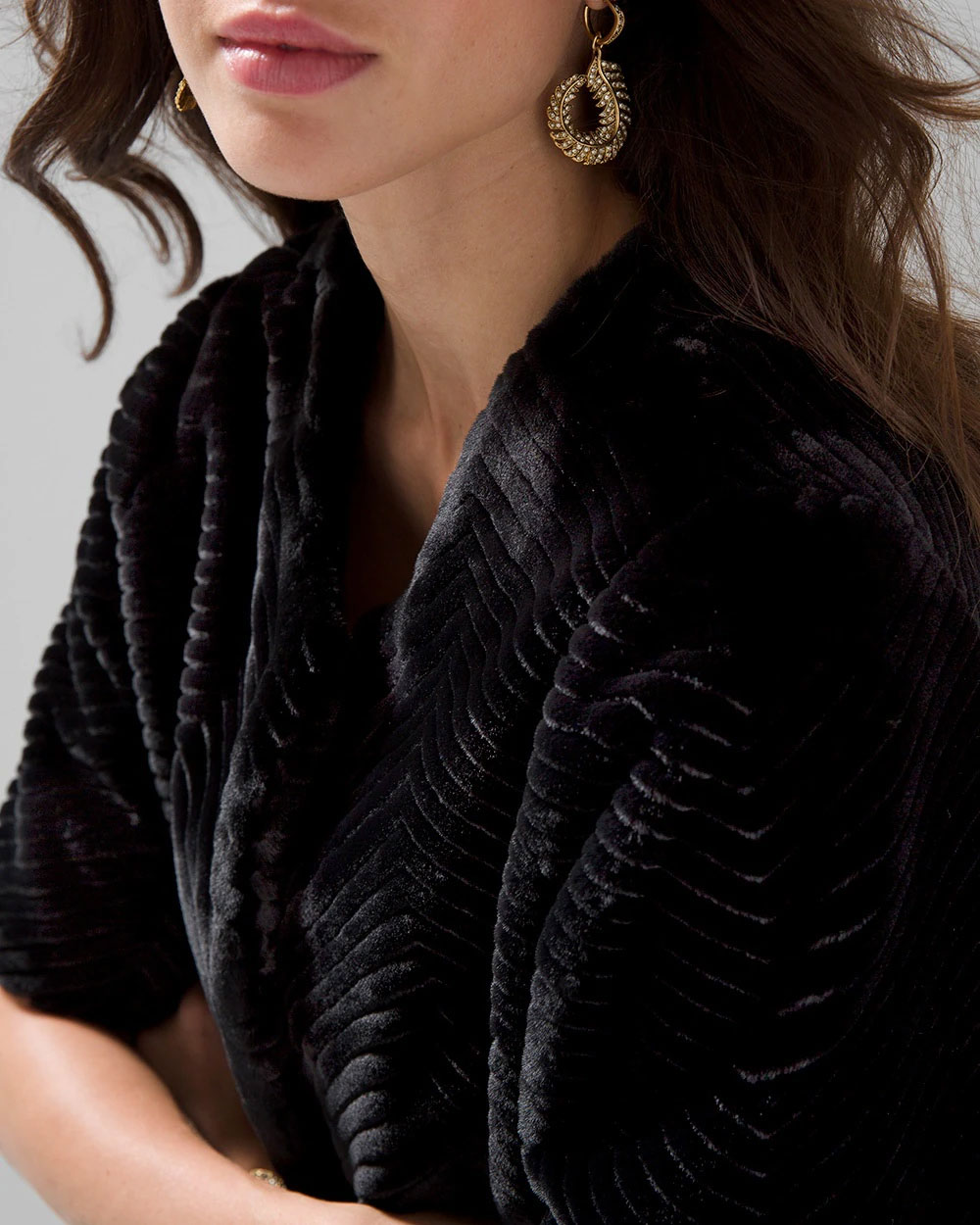 There aren't many articles of clothing that can perform double duty at either a casual night out or a black-tie event. But two that come to mind are the shrug and bolero – and yes, there is a difference.
Both are designed to add a layer of chic to bare shoulders. Whether you're after a layer of warmth or you're of a certain age and don't want to bare arms, shrugs and boleros are a stylish alternative to a pashmina or evening coat.
But in the wardrobe wars of shrug vs bolero – what is the difference and how do you know which is right for your style needs? Let's examine the evidence.
WHAT'S A SHRUG?
Think of a shrug as a very cropped cardigan. Often considered a casual outfit addition, a shrug's cropped length elevates the look of the rest of your outfit. Looking to work one into your ensemble? Try these two styles:
KNIT SHRUG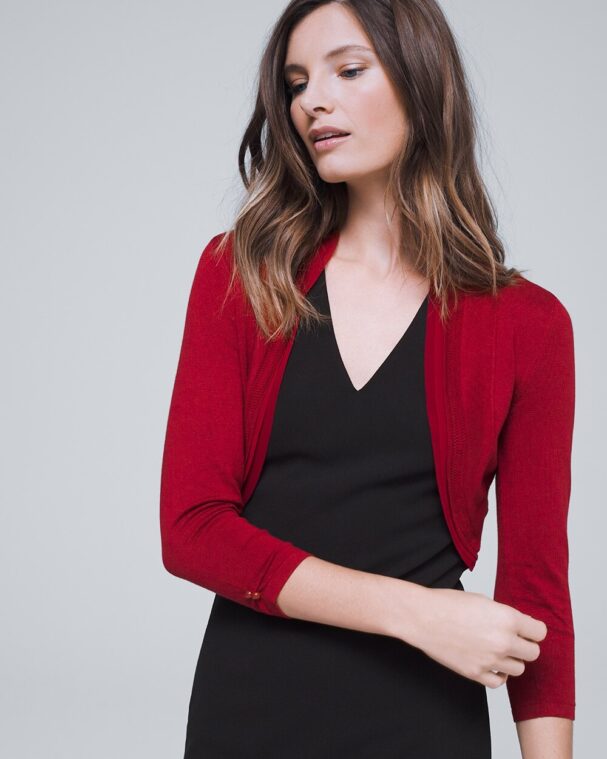 A knit shrug is the perfect antidote to making sure you're always comfortable at your desk, while looking fashionable, too. So forget your standby office cardi, and throw a shrug over a pencil skirt and bodysuit instead. This versatile garment also goes great with a dress pant and a tucked-in, button-down shirt, or over a sheath dress. And because it's next to impossible to predict the temperature in your office on any given day, stash a go-to knit shrug in your office drawer—you never know when you'll need it. Our advice: You can't go wrong with a classic black shrug, as it pairs well with virtually every outfit.
EMBELLISHED SHRUG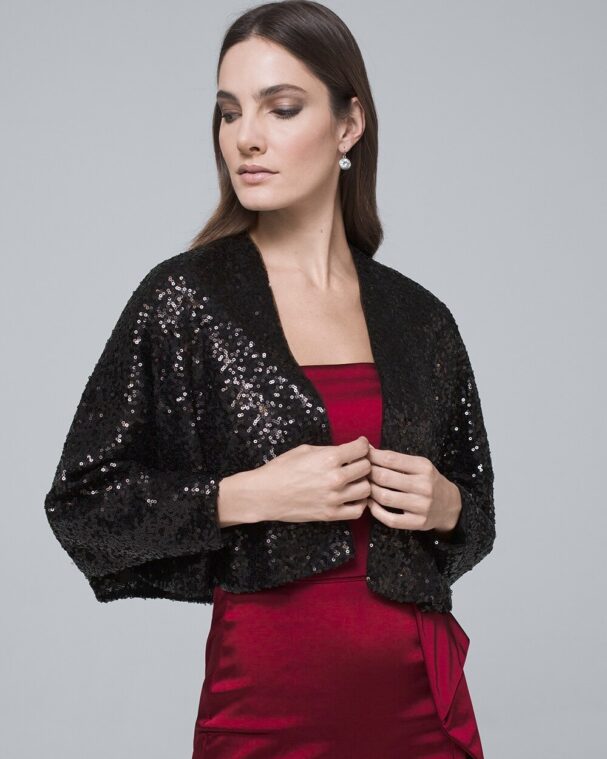 How many times have you wanted to change up your go-to outfit? Probably more often than you can count. That's where the embellished shrug—think sequins, pearls, or even beading—comes in. For instance, when you wear a beaded shrug with a tank top and jeans, your look will instantly go from casual to refined. This pairing makes for effortless style, whether you're having brunch with the girlfriends or enjoying a lunch date al fresco. An embellished shrug can also be the perfect companion to a halter dress or a little black dress, elevating a basic piece to a stunning outfit. And as we mentioned up top, shrugs pair perfectly with a gorgeous gown for that charity gala you got going on.
WHAT'S A BOLERO?
A bolero is a very cropped jacket, and has more structure than its shrug cousin.
You've seen boleros in matching satin shades to the ballgowns of society women and movie stars. But guess what, you don't have to be a social swan or a celebrity to pull off the look. They've been a hit on the runway and coveted by street style stars, too—who are wearing them with everything from jeans to a pencil skirt. That's the magic of a great bolero: one minute you're in a casual everyday outfit, and the next minute you're all dressed up and ready to hit the town! They're designed to instantly transform any outfit into a style success.
Boleros also come in a range of fabrics, from tailored knits to faux fur to duchess satin. Here are three styles of boleros to keep in mind when shopping:
KNIT BOLERO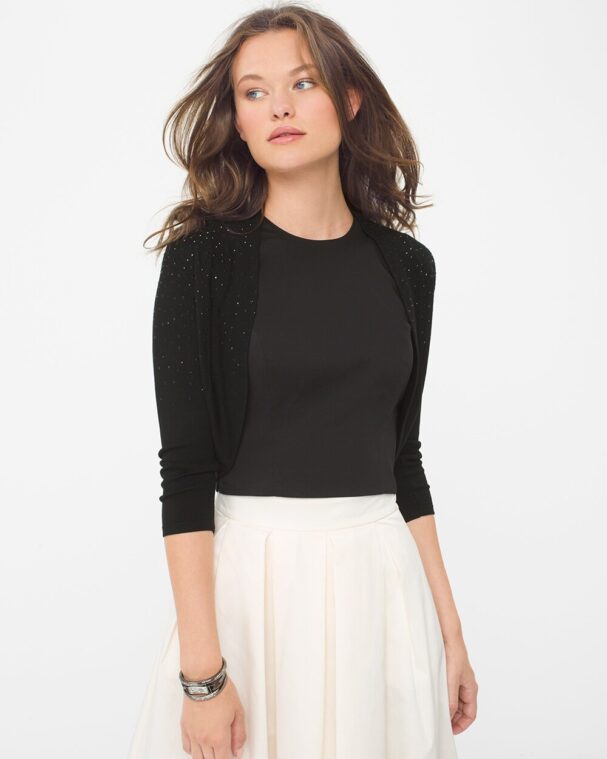 What's the difference between a knit bolero and a knit shrug? Knit boleros closely resemble a cropped jacket, and tend to be longer and more structured than their shrug counterpart. They pair well with pencil skirts as a fashion-forward substitute for a traditional jacket. Look for matching coordinate pieces to take the concept of a sweater set to the next level. Knit boleros also look great with cocktail dresses, as the open front allows you to show off your ensemble.So if you're dressed to impress, but still feel like your look is missing something, adding a knit bolero usually does the trick. It's practical, too, for when you just need a light layer—the sweater material and long sleeves are great at warding off the evening breeze.
FAUX-FUR BOLERO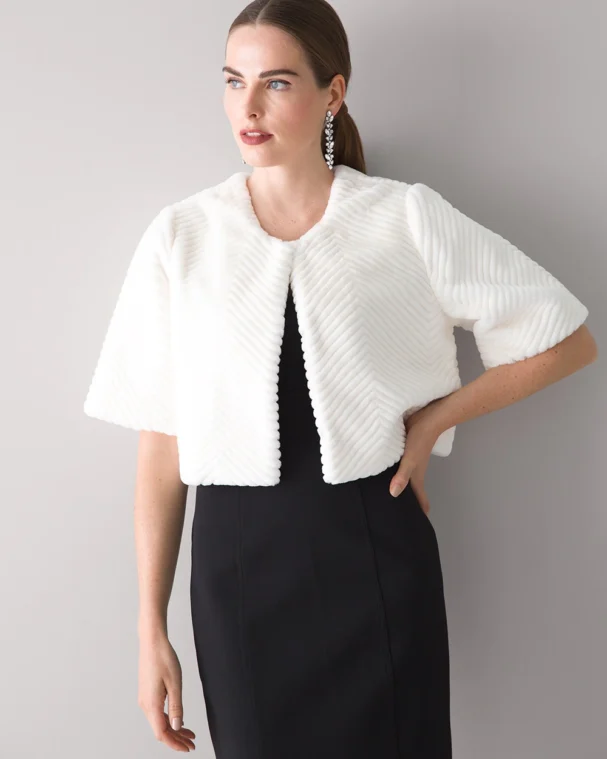 A faux-fur bolero is a super luxe style add-on and is the perfect topper for elegant and not-so-elegant occasions. For added sparkle, try fastening your bolero with a brooch to make any party outfit extra special. And this fashionable piece can be worn all year long. Try pastel or light neutral tones for the warmer months, and look out for seasonally appropriate short-sleeve options. Consider pairing one with jeans and a T-shirt to achieve the perfect balance of casual and sophisticated. For the holidays, we love black and silver faux-fur boleros for a classically chic look.
FEATHER-TRIM BOLERO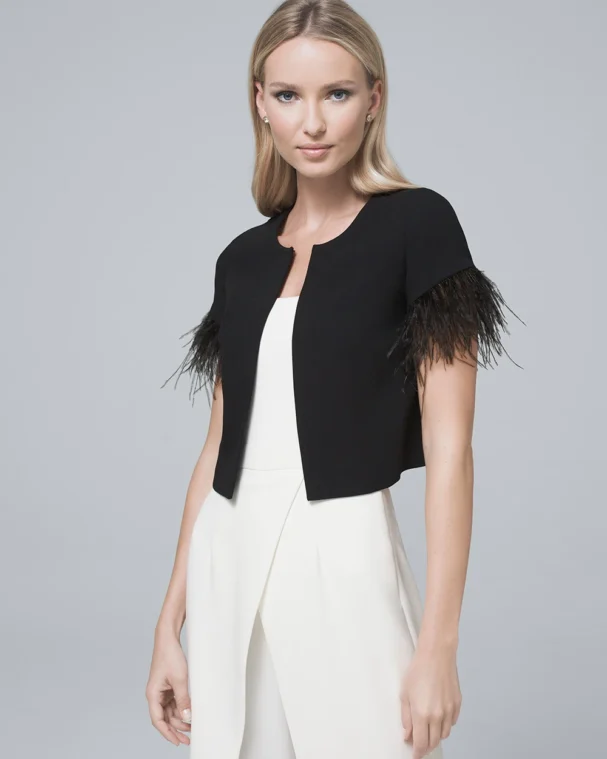 If you're looking to make a bold statement, there's really only one choice: the feather-trim bolero. This item is a showstopper, whether it's worn over a cocktail dress or a sleek jumpsuit. Simply drape it across your shoulders for instant glamour. Feather-trim boleros are fantastic for elevating your evening wear attire, but the possibilities are endless with this layering piece. Dress it down with a sleeveless shell and skinny jeans for an on-trend look. No matter the occasion, the feather-trim bolero is sure to become your favorite "it" jacket.
Our advice when it comes to the shrug vs. bolero? Have at least one of each. A chic alternative to your basic cardigan or jacket, these toppers are essential for rounding out your wardrobe.