Fashion history has proven it so—there's no easier way to exude confidence and class at work than with a well-fitting blazer. Blazers can make or break an entire look, which is why finding the best blazer for your body type may seem daunting.
Don't fret. Finding the right blazer is as simple as selecting one with details that accent your unique shape. And we're making it easy for you by breaking down five different body types and pairing each one with the best blazer style. This way, when you invest in a sharp blazer, you'll know it was money well spent.
1. Inverted Triangle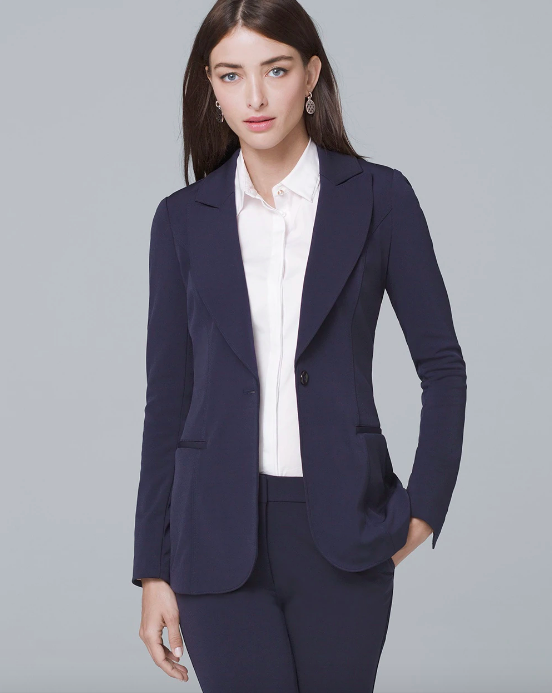 If you're broader across the shoulders than the hips, this body shape is called an inverted triangle. To balance your top, opt for a jacket that has a soft shoulder. For example, avoid shoulder pads or crisp, tailored edges. You can also balance your shoulders with flare details that draw attention to the bottom of the blazer, such as ruffles or a peplum.
2. Triangle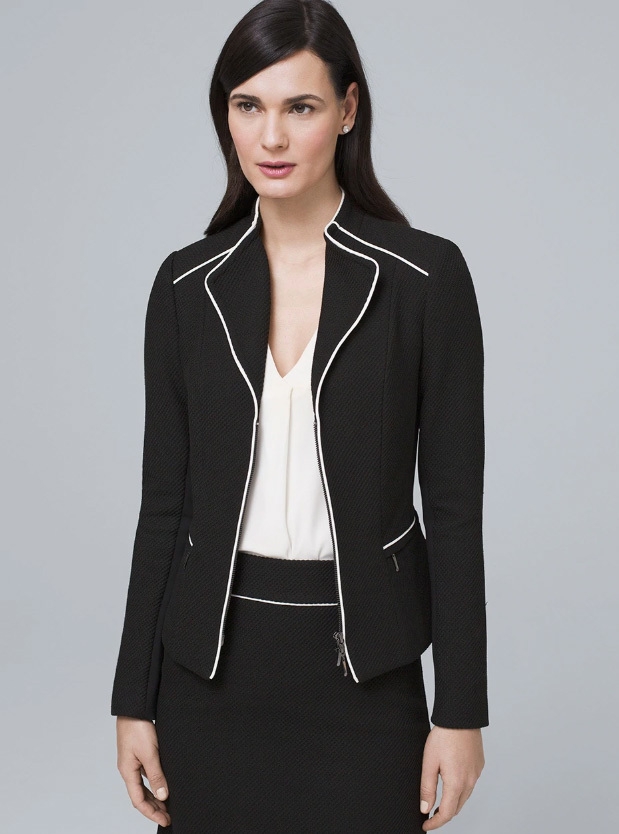 Triangle-shaped women have narrow shoulders and wide hips. To play up your top half, try a blazer with a defined, tailored shoulder. Sweet details like ruffling on the front or at the collar will also draw the eye upward. Try to avoid any details at the bottom of the jacket so that the emphasis is squarely on your shoulders.
3. Rectangle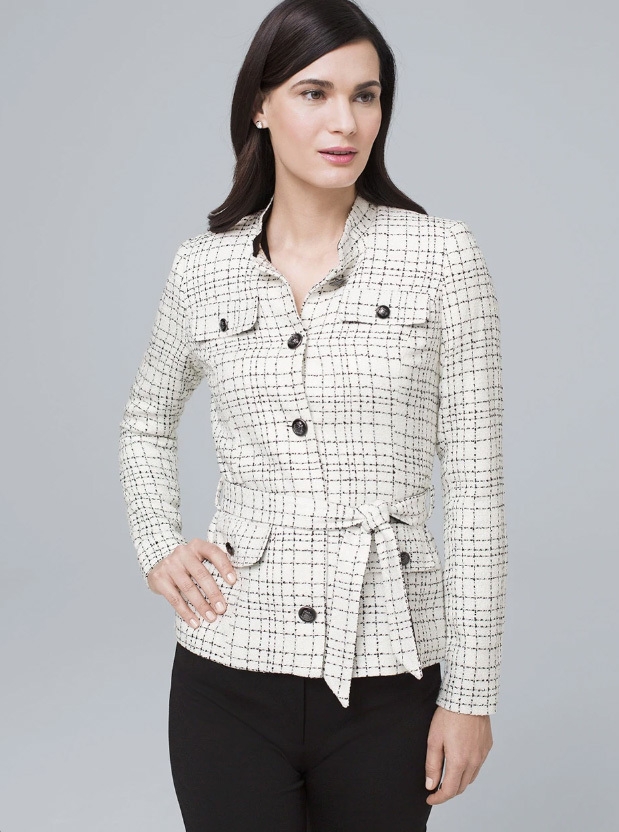 If your waist and shoulders are about equal in width and you have a long torso, that's a rectangle shape. Flattering a rectangle shape comes down to two things: playing up your long lines with a long blazer that hits below your hip, and creating a waist with a blazer style that buttons. Whether it's one, two, or three buttons is up to you and your personal style.
If you're ready to advance to the next level, try a buttoned hip-length blazer with an obi belt over it to create an hourglass shape.
4. Petite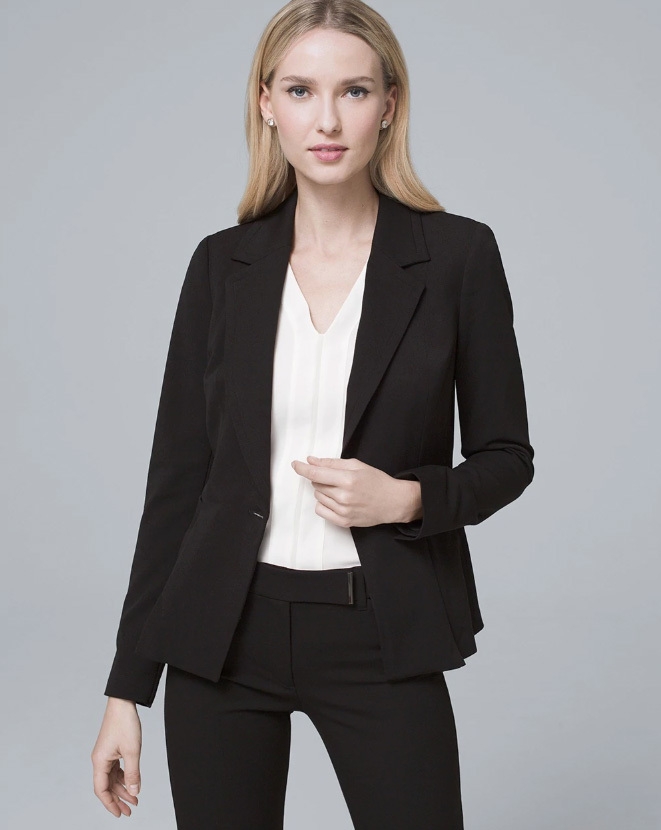 It's a breeze to shop for petites these days, but in case you're looking at a style that doesn't come specifically in petite, look for slim-fitting blazers that hug closely to the body. Boxier styles could overwhelm your small frame. As a rule, a blazer should fit squarely in the shoulders and button without being too snug or, in a petite woman's case, too roomy.
5. Hourglass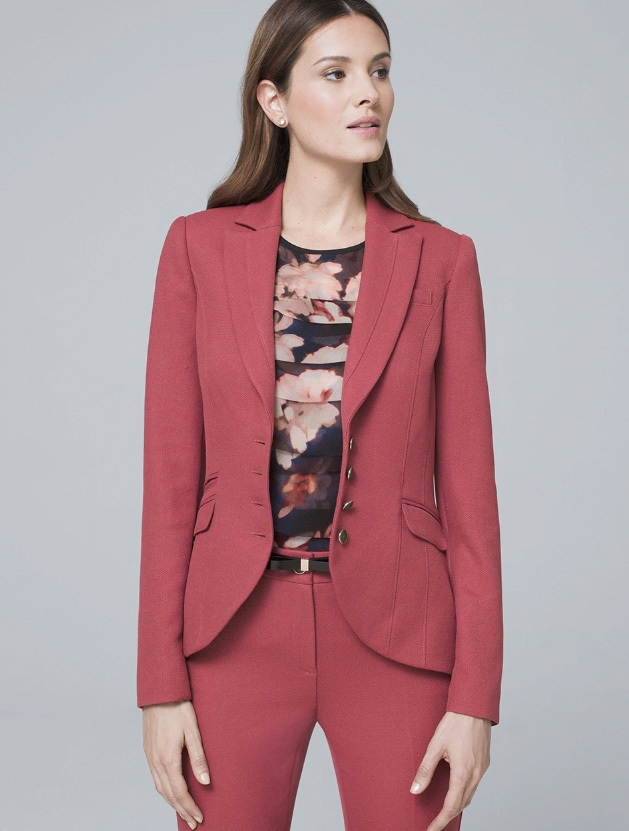 If you're lucky enough to have an hourglass body shape, most blazers will look great on you. Even with that in mind, you should go for a style that really plays up your waist, such as a double-breasted jacket. Both long and short lengths, as well as structured and unstructured shoulders, will suit your shape. While you may favor one style over another, keeping a variety of different jacket styles in your wardrobe for steady rotation will keep your blazer game fresh.
Using these fashion tips, it should be a cinch—pun intended—to find the best blazer for your body type. Don't despair if a style you love doesn't fit you perfectly. Remember, tailoring is always an option to make your blazer uniquely your own.